Visitors Guide to Marijuana in Las Vegas
Are you planning a trip to the Las Vegas area? Las Vegas, Nevada is a tourist hotspot and offers countless entertainment opportunities, including premier dining, shopping, and casino locations. Recreational marijuana is legal in Vegas and one of the countless perks that you can enjoy during your stay.
Start your Vegas vacation off right by ordering cannabis online and accessories when you arrive at. Getting your marijuana before you head out to explore the city can save you time and energy later down the road. But where should you stop to buy marijuana in Vegas?
The following informational guide covers everything that you need to know about buying weed in Las Vegas. We explore age requirements, possession limits, and the wide variety of marijuana strains that are available to purchase on your trip.
Who Can Buy Weed in Las Vegas?
The law for cannabis in Nevada only requires that individuals be at least 21 years old to buy recreational cannabis products. Tourists are welcome to buy weed in Las Vegas. Medical marijuana patients are the only exception to these age restrictions with allowances permitted at 18 years old.
You will be required to provide legitimate proof of age to complete a purchase at the dispensary. Permissible forms of identification include a driver's license, government ID, or a valid passport. All forms of identification must be scannable and not expired.
How Much Pot Can You Buy in Las Vegas?
Nevada law allows individuals to purchase up to 1 ounce, or 28 grams, of smokable flower in a single transaction. Medical marijuana patients are permitted a purchase allotment of up to 2.5 ounces.
Concentrate purchases are limited to 1/8 of an ounce, or 3.5 grams, in a single transaction. The number of recreational purchase transactions completed are not tracked.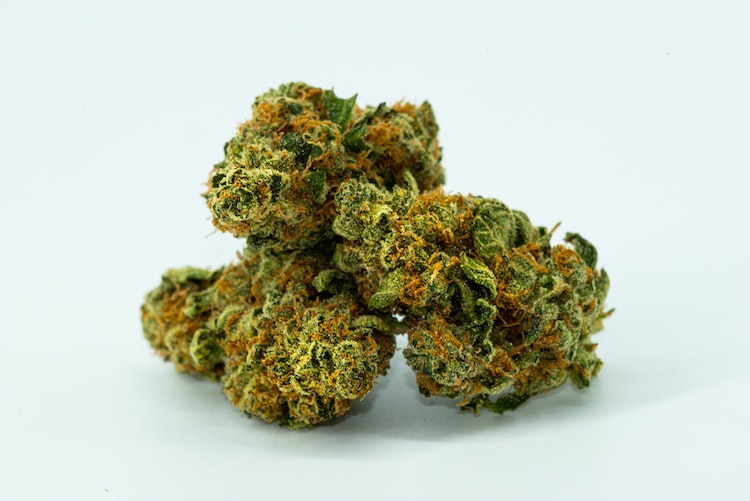 What is the Closest Vegas Airport Dispensary?
The Las Vegas strip is a highly congested area and can be frustrating to navigate in search of a Vegas strip weed dispensary. There is a way you can buy your weed to be prepared before you hit the strip.
Nevada Made Marijuana is a well-known dispensary with a wide selection of marijuana products, including loose flower, pre-rolls, edibles, and more. We are also located right up the road from the airport, allowing you to stop in and stock up after picking up your rental car.
Where Can You Smoke Pot in Las Vegas?
Personal use of cannabis products has been legal in the state of Nevada since it was approved in 2016. However, marijuana use has been limited to only in private and prohibited in public spaces.
On October 1st, 2022, a new law is set to go into effect that will permit cannabis use at an increased number of locations. Unfortunately, consumption will remain illegal inside or near casinos.
The safest bet is to consume your pot before you head out or at least be very discreet in public. Smoking in public could cost you $600 if you are caught.
Can I Pack Weed on the Flight Back Home?
No, It is illegal to cross state lines any products that contain cannabis compounds. Enjoy all of your weed and cannabis products before heading back to the airport.
How Do I Decide Which Cannabis Strains to Buy?
The closest dispensary to Las Vegas Airport offers a wide range of cannabis products, including edibles, vapes, concentrates, or the ever-popular loose flower.
Loose flower is available in a wide variety of Sativa, Indica, and/or combination hybrid strains. Each stain will produce a different effect that is unique to its specific CBD and THC content.
The Closest Vegas Airport Dispensary Offers Strains, Including:
Glue on Fire
Grape Pie
Miss Fire
Poison Peaches
Waffle Cone
Cereal Milk
Premium Wedding Cake
Ask a dispensary professional for more information about which products and strains would be best suited to meet your unique needs.
Shop Marijuana at Nevada Made Marijuana
Stop in at Nevada Made Marijuana, the closest Vegas Airport dispensary, to take full advantage of legal cannabis. Be sure to stock up on all the weed products that you need before hitting one of the city's popular entertainment venues, bars, and/or casinos.
Stop in at Nevada Made's Las Vegas marijuana dispensary and explore our vast inventory of weed strains, topics, accessories, and apparel. Play our new game in-store, The Spin Machine, to win free cannabis products on your trip.