Mammoth Labs, one of the Pacific Northwest's most established and trusted brands is now available at Nevada Made Marijuana.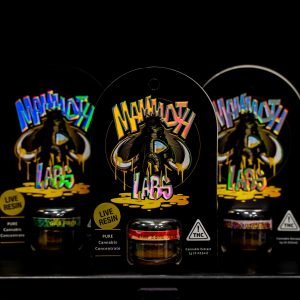 If you're a fan of concentrates, you might already be familiar with Mammoth Labs. They're well known for their extraction processes that result in extremely clean, and extremely flavorful concentrates that pack quite a punch. But they offer more than just premium concentrates, with an expanded line of infused pre-rolls, as well as live resin cartridges and disposables. Lucky for all of us, we're bringing their amazing product line to our shelves. 
Live Resin is a very unique form of cannabis concentrate, being made from fresh-frozen buds. Immediately after harvest, the buds are cut from the plant and flash frozen to preserve the fresh, unadulterated flavor of the strain. This results in some of the tastiest, nose-forward concentrates you can find. They're light in color, with soft consistencies that make dabbing enthusiasts sit up and take notice. Truly, these concentrates are something special.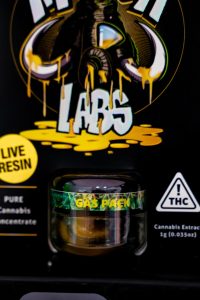 Whether you choose their Live Resin Badders or Diamond Sauce, you're sure to have a top-shelf dabbing experience with Mammoth Labs. If you don't dab, that's ok, Mammoth Labs still has you covered with their live resin infused pre-rolls and diamond sauce cartridges and disposables.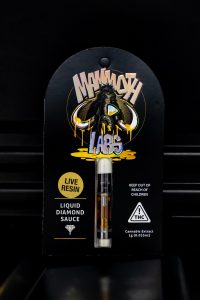 The Wonderful Live Diamond Sauce Cart will definitely impress, with its copious terpene profiles (listed below). Even better, you can choose between a full gram 510 thread cartridge, or a half gram disposable. Both are filled with the same delightful Diamond Sauce, so you can't go wrong with either choice.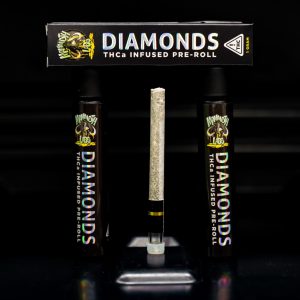 Infused pre-rolls are one of the fastest growing product categories in the industry. Not only because they're packed with more THC than normal pre-rolls, but because they're portable and convenient. Also, these are custom products that are difficult to reproduce at home. Yes, you can make your own infused pre-rolls, but it's very hard to replicate the quality and craftsmanship that Mammoth Labs puts into every infused pre-roll they produce. Every infused pre-roll is infused with THC-A diamonds, making them unique in the Nevada market, where most infused pre-rolls are made with distillate and kief. If you're looking for top-shelf quality and potency, give the pre-rolls a try today.
Mammoth Labs Concentrates
Gas Pack Live Resin Badder
87.4% THC
13.85mg/g Terpinolene
4.21mg/g B-Caryophyllene
3.77mg/g Limonene
Gelatti x Runtz Live Resin Badder
85.91% THC
12.23mg/g B-Caryophyllene
6.86mg/g A-Humulene
6.58mg/g Limonene
Lion's Mane Live Resin Badder
86.06% THC
12.11mg/g Limonene
9.67mg/g B-Caryophyllene
5.44mg/g A-Humulene
Lion's Made Live Resin Sauce
84.82% THC
9.59mg/g B-Caryophyllene
5.53mg/g A-Humulene
4.52mg/g Limonene
Mr. Wonderful Live Resin Badder
89.15% THC
11.56mg/g B-Caryophyllene
6.95mg/g A-Humulene
2.74 A-Bisabolol
New York Cheesecake Live Resin Badder
84.3% THC
13.15mg/g Limonene
8.08mg/g Linalool
7.10mg/g B-Myrcene
Thai Fighter Live Resin Sauce
87.97% THC
6.19mg/g B-Caryophyllene
6.06mg/g Linalool
5.02 Limonene
Mammoth Labs Cartridge/Disposable
Wonderful Live Diamond Sauce Cart
63.92% THC
38.70mg/g B-Caryophyllene
20.37mg/g A-Humulene
20.08mg/g Limonene
Mammoth Labs Diamond Infused Pre-rolls
Don Mega
44.93% THC
Han Solo Burger
55.6% THC
Ice Cream Cake
50.02% THC
Kush Mints
57.04% THC
Tropsanto
51.48% THC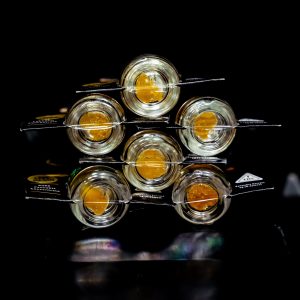 Stop in to any of our locations to pick up the new Mammoth Labs products today. Act fast, because these will sell quickly! Click here to pre-order from your preferred location now!